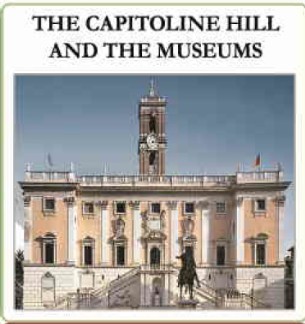 FOR SMALL GROUPS
Tour Code: T02
 Max n.of people: 12     Duration: 3 ore   Days: tutti   
Tour start: 10:00 Meering: 9:30
€ from:
€ 28 (adults);  € 26 (reduced); € 15 (specials); € 2 (childrem 0-6 years)
DESCRIPTION
Along with the Palatine, the Capitoline hill is the place where Rome originated and, later, the seat of the holiest religious cults in the city. Today we can admire the Square, designed and built and by Michelangelo with in the center the guilded bronze equestrian statue of Marcus Aurelius. The visit to the Museums, the oldest public museum in the world, opened in 1471, will allow us to admire the many works of art, especially statues and mosaics, that decorated ancient Rome.
Expenses Included:
expert guide in English (or, if available, any other language if required)




• entrance to the Capitol and Museums




• annual membership to the Association (for non-members)
Cost per person:
Cost contribution guide (includes membership card valid for one year): variable based on the number of people booking. View: Guided Tours half day: cost contribution

entrance fees for Museum + Exhibition: Adults: € 15.00 per person - Reduced: € 13,00 per person - Very low: € 2.00 (children 0-6anni; Disabled; EuroPass card holders)
entrance fees only Museum (from 25.01.2016): Adults: € 11,50 per person  Reduced: € 9,50 per person
Expenses not included:
transport to / from the start / end of tour




• rental of equipment voice
Time and Place of meeting:
9:30 am at the garden of Piazza D'Aracoeli
.Booking:
if possible to be made one week before the date of tour
always quote the booking and confirmed by the tour code (T02)
Reservations must be confirmed by phone to one of the following numbers:
(+39) 340 3256889 or (+39) 339 7747727. The telephone confirmation must be given at least 2 days prior to the tour date
Cancellations of reservations NOT refunds will be made if the day before the tour
Minimum and Maximum number of participants admitted to the Tour:
each tour will be made if the number of participants is at least 2 (excluding the income children)




• each tour will be allowed a maximum of 12 participants (children are excluded from the count)
Useful tips:
Wear comfortable shoes, suitable clothing to the temperature of the period, bags or backpacks not heavy and not cumbersome.




• The 1st Sunday of the month admission tickets are free, but it is not allowed to book (so you do long lines and entry in the case of high affluence is not assured).
Opening times:
Open daily: from 9.30to 19.30. 24 andDec. 31: 9:30 to 14:00.




• Last entry allowed: 1 hour before closing time.




• Closures: January 1 / May 1 / December 25